SMART LOCKS
The smart lock enables you to open a door using your smart phone. As such you no longer need to look after your keys. You can have a badge to replace all of the keys to all the locks you use all year round. For example, a single badge will enable you to open your house or rental flat but also your second home.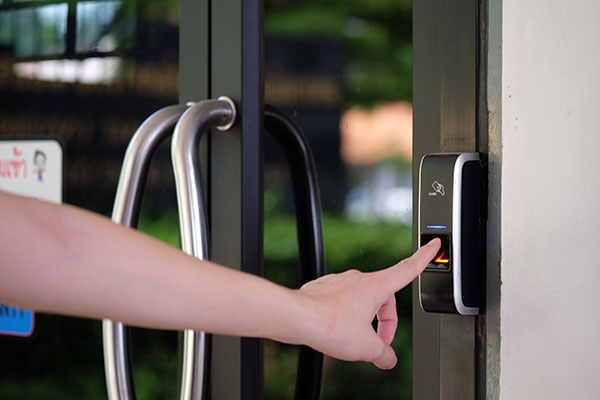 The benefits of the smart lock and an automated access management system:
- Ease: it's one of the biggest benefits. You can share the pass with whoever you want, when you want and for as long as you want. The aim is to give easy access to friends, family, the cleaning lady or a plumber coming to do a repair, without having to copy remote controls for gates or keys. You lock and unlock the smart lock remotely.
In a nutshell, you give access to the house but not the keys and without moving!
- Security: security is about more than just smart locks but we have noticed that with their rise your doors are more protected. The technological protocols used by smart locks are secured using encrypted data identical to those used in banks.
The benefits of the smart lock and an automated access management system:
- Automatic opening: the main benefit of the smart lock is that it enables you to open the house without taking your hands out of your pockets (very practical when you have shopping bags). The smart lock does away with your need for keys. It is possible to incorporate the smart lock in your smart home automation system to make it even more indispensable, particularly thanks to comprehensive arrival and departure scenarios.
- Monitoring: the smart lock enables you to log when you leave the house and return home. This function enables you to check whether your children have got home safely or the cleaning lady has come. The smart home automation system can send you notifications if someone arrives!
CONTACT US TO MAKE AN APPOINTMENT!
Our business installs smart home automation in the departments of Les Alpes-Maritimes (06), Le Var (83) and Monaco.

Our clients are mainly located in the municipalities of Cannes, Le Cannet, Mougins, Mouans-Sartoux, Auribeau, Pégomas, Peymeinade, Mandelieu, Valbonne, Antibes, Nice, Sophia-Antipolis, Biot, Cagnes sur Mer, Vence, Grasse, Menton, Monaco, Cap d'Ail, Eze, Villefranche sur Mer, Beaulieu, Saint Jean Cap Ferrat, Beausoleil, Théoule sur Mer, Carros, Saint-Raphaël, Fréjus, Saint-Tropez, Bandol, Draguignan, Fayence, Lorgues and Sainte-Maxime.