SMARTHOME AUTOMATED ROLLER SHUTTERS, BLINDS AND CURTAINS
Nowadays it is relatively straightforward to automate roller shutters (opening and closing), blinds, curtain rails and net curtains!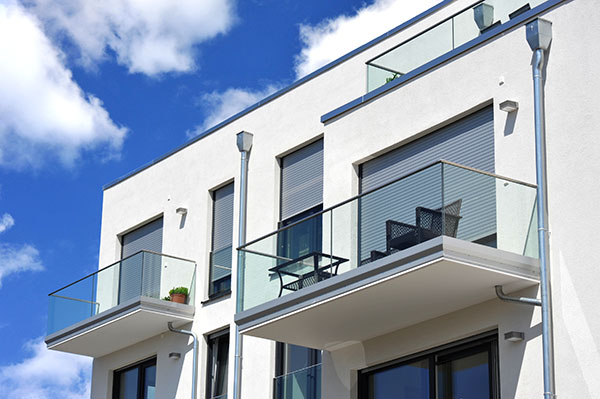 In an existing building forget cumbersome and difficult wiring. With a wireless micromodule it is possible to automate a roller shutter. In a new building it is preferable to plan wiring to incorporate roller shutters in the smart home automation system.
What is the benefit of automation for a roller shutter (or windows and doors more generally)?
Automated roller shutters will change your daily life as they turn your roller shutters into a smart device. The main benefits are as follows:
For comfort: you control your roller shutters remotely whether home or away. You can programme a scenario which will open or close your roller shutters without you needing to do anything.
To make savings: you create scenarios to make the most of the sun's heat in winter, leaving your roller shutters open in good weather. Conversely, you can prevent an increase in temperature in the summertime.
For security: you can give the impression you are at home by opening your roller shutters regularly.

CONTACT US TO MAKE AN APPOINTMENT!

Our automation company installs smart home solutions in the departments of Les Alpes-Maritimes (06), Le Var (83) and Monaco.
Our clients are mainly located in the municipalities of Cannes, Le Cannet, Mougins, Mouans-Sartoux, Auribeau, Pégomas, Peymeinade, Mandelieu, Valbonne, Antibes, Nice, Sophia-Antipolis, Biot, Cagnes sur Mer, Vence, Grasse, Menton, Monaco, Cap d'Ail, Eze, Villefranche sur Mer, Beaulieu, Saint Jean Cap Ferrat, Beausoleil, Théoule sur Mer, Carros, Saint-Raphaël, Fréjus, Saint-Tropez, Bandol, Draguignan, Fayence, Lorgues and Sainte-Maxime.