GSM BOOSTERS
GSM and 4G booster: To improve your mobile phone's network signal!
Our company specialises in the installation of GSM and 4G boosters. Successful GSM installation is not easy. As such, each of the company's installers has undergone special training. Indeed, installing GSM amplifiers is a trade in itself!
What is a GSM booster / repeater?
A GSM booster system consists of a GSM booster, a receiving antenna and one or more transmitting antennas. The booster's role is to compensate for the loss of mobile signal. The booster gives you improved mobile reception and enables you to increase network coverage in areas where the signal is poor. As such, it drastically improves your mobile phone reception.
How does a GSM booster / repeater work?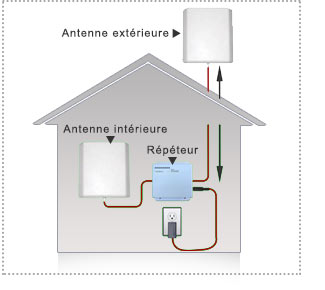 A GSM booster consists of a booster, one or more antenna located indoors and an outdoor antenna.
1 - The mobile signal from operators (SFR, Bouygues, Orange and FREE) is received through an outdoor antenna,
2 - The signal is transmitted to the booster (repeater) by the outdoor antenna,
3 - The booster (repeater) then boosts the signal received and transmits it to the antenna inside the building.
4 - As such, the improved signal boosts the coverage of the mobile phone network.
In which cases should a GSM / 4G booster be installed?
A GSM Huaptec booster is recommended in a home or business in an area where the mobile phone reception is weak and you get cut off regularly when talking on the phone.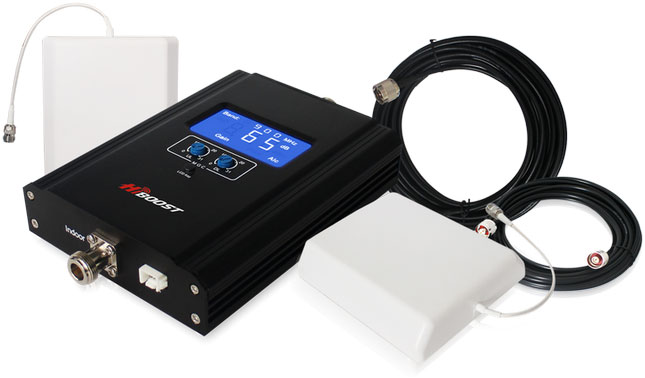 You can install a booster if you:
- have problems with your network or a poor GSM and 4G reception with your mobile in in your villa or business.
- you are struggling to get a telephone signal,
- you are in an area with poor GSM, 2G, 3G or 4G network coverage,
CONTACT US TO MAKE AN APPOINTMENT!
Our business installs smart home automation in the departments of Les Alpes-Maritimes (06), Le Var (83) and Monaco.
Our clients are mainly located in the municipalities of Cannes, Le Cannet, Mougins, Mouans-Sartoux, Auribeau, Pégomas, Peymeinade, Mandelieu, Valbonne, Antibes, Nice, Sophia-Antipolis, Biot, Cagnes sur Mer, Vence, Grasse, Menton, Monaco, Cap d'Ail, Eze, Villefranche sur Mer, Beaulieu, Saint Jean Cap Ferrat, Beausoleil, Théoule sur Mer, Carros, Saint-Raphaël, Fréjus, Saint-Tropez, Bandol, Draguignan, Fayence, Lorgues and Sainte-Maxime.